rainbow wrote:
Yes Woodrow this is what the Creator showed me That the Native American Culture is very much Permitted by Him .And He showed me this in a Time when I was still a Christian because it did hurt me so much to find out what Christians did to Their Culture and to the first Nations of America It Is a GREAT Sin in the eyes of the Creator ,.It is Because of this That I back slid out of Christianity .

And I also noticed that if you a friend of a Native American and you want to help ,Then they call you a activist ,But if you help africa ,or asia. or any other place then you a hero .This is so unfair .
I pray that the CREATOR help this Nation with so many friends that nobody would dare to touch them again .
Mitakuye Oyasin .Rainbow
The soul of a people is reflected through the art of the people. There is much similarity between Islamic Art and Native American Art. The main difference being that in Islamic art we make use of calligraphy, flowers and geometric shapes. However our purpose is that art should be thought of as a prayer and what we draw is to give praise to the Creator. I see this very same attitude in Native Art and in the symmetry and fullness of the art I see that similar to the way we use geometric shapes. Art of this nature is to be appreciated by all and should not be disrespected as it is a prayer and reflects the artist's love of the Creator and His creation.
Here is one of my favorite examples of Islamic Art I did not do it I only "borrowed" it from the artist, who did put it on the internet as public domain,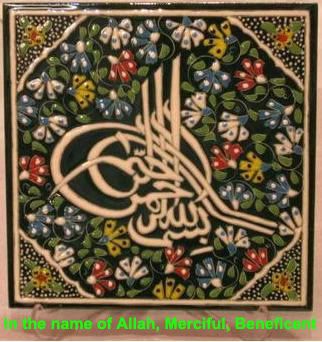 The only thing I do not like about it is somebody wrote the Bismillah below it in English.
The calligraphy is the Bismillah and is to be said by all Muslims before every action, thought or deed. It reads "Bismillah ir Rahman ir Raheem" (In the name of God, the most merciful, the most beneficent) Raheem does not translate fully into English it carries with it the ideas of providing all, giver of all things and the most generous
I believe that in the symmetry and balanced use of color you will see the similarity to Native American attitudes about the purpose of art and all genuine art is to be seen as a prayer.
I see both Howard's painting and your wall hanging as being visual prayers of praise to the Creator